LOCATION
Centreville, Delaware
SUPPORT & PROGRAMS
Integrated support for learning differences, including:
• Organization of time, materials, information
• Differences in processing speed
• School anxiety
• Early intervention and academic support for children with learning differences.
GRADES SERVED
Pre-Kindergarten to 12th Grade, and Post Graduate Year
TYPICAL CLASS SIZE
Upper & Middle School
3 to 12 students, with an average class size of 8
Lower School
Centreville Layton School's carefully designed classes enable teachers to individualize instruction for each student and monitor attention, comprehension, and progress. Classes are kept small so every student receives an education customized to his or her specific needs.
STUDENT:TEACHER
5:1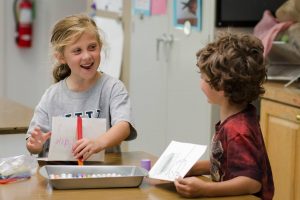 DIVERSITY
25.5%
UPPER SCHOOL PROGRAM
College and Career preparedness, with a full scope and sequence of language arts, social studies, mathematics, science, foreign language and visual art. Technology and learning strategies are integrated throughout the program. We offer educational opportunities for high school students who struggle in a traditional academic environment.
LOWER & MIDDLE SCHOOL PROGRAM
Our Lower School provides a hands-on, multi-sensory curriculum for its students, firmly rooted in the basics of reading, language arts, math, social studies, and science. The rigorous academic program is integrated with therapeutic supports and social thinking instruction. Arts, sciences, technology, and physical education classes complete the program and produce well-rounded students.
POST GRADUATE YEAR (PG2)
Centreville Layton School's Post Graduate/ Personal Growth Program (PG2) is designed to instill postgraduates with the direction, confidence, and independence needed to navigate their next steps in life. College courses, vocational experiences, instruction in interpersonal skills, and cooperative cultural and social activities will provide PG2 students with opportunities to explore interests, discern personal value systems, and deepen professional, personal, and practical awareness. This experience will encourage students to develop real-world preparedness, so they can claim their place in an ever-changing world.
SUPPORT SERVICES
Reading Intervention, Occupational Therapy, Speech and Language Therapy, and Social Thinking Classes, and School Psychologist
ATHLETICS

Physical education classes are scheduled during the day.
Upper School
After-school offerings include: cross country, winter track, and golf.
Middle School
After-school offerings include: soccer and basketball
SCHOOL DAY

September through June, 8:30am-3:30pm, and extended day is available 7:30am-8:30am and 3:30pm-5:30pm.
CONTACT INFORMATION
Meghan Kivler
Director of Admission
mkivler@centrevillelayton.org
(302) 571-0230 Ext. 207