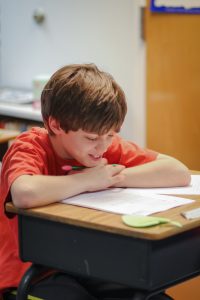 Reading is considered the fundamental building block of all learning. Literacy research has shown that expert readers are proficient in both decoding and comprehension skills. However, not all readers acquire these skills naturally. A multitude of factors can interrupt or impede the development of reading skills including attention, memory and or linguistic difficulties.
At Centreville Layton School, we recognize the complexity of reading and offer a high-quality reading program based on scientifically supported research. Because there is no method that can effectively teach all children to read, our teachers provide instruction and practice using various materials and methods of teaching reading skills. Students' strengths and needs are assessed by our Reading Specialist and students are placed at a level at which they will be most successful. In-class direct instruction to small groups of students provides the opportunity for teacher-led instruction designed for each student's learning needs.
Reading assessment takes place throughout the school year in an effort to ensure appropriateness of instruction and to monitor progress. When necessary, one-on-one or small-group prescriptive lessons outside the classroom are added to address specific learning needs.
Students at Centreville Layton School are also taught to be effective writers and are encouraged to view writing as not only a tool for communication, but for creative expression. Writing is taught as a process in collaboration with reading and spelling instruction. Students are taught to be cognizant of spelling patterns and individual word features, and the rote memorization of spelling words is de-emphasized. The result is that students are more motivated to spell well in their everyday writing.
Technology is an integral part of the lives of today's students.  Technology can be used to teach and to learn, but effective use of the internet also requires literacy skills.  In addition to using technology to find information, technology can be used for reading and writing in many ways. Centreville Layton School uses technology primarily in three ways.  First, technology is used as a tool that enables readers to engage with text.  Using technology, students are able to highlight words, take notes, and find definitions, but they can also collaborate and share their thoughts with others.  Second, technology is used as an assistive device that allows some students to access text.  For some students, audio books and applications provide a way for them to access the same books as their peers.  Lastly, the use of technology is encouraged in writing to support skill development and to increase production.