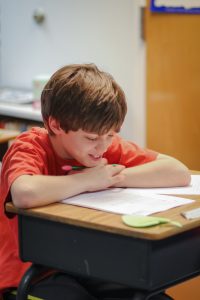 At Centreville Layton School, we recognize the importance of reading, and a high-quality, research-based program is the cornerstone of our school's instruction and curriculum.  Each student receives targeted reading assessments that are used to create individual reading profiles. These profiles provide our team of specialists and teachers with the data needed to provide individualized instruction for each student.
Our multisensory reading program is based on skill development, utilizing authentic literature with the goal of creating confident and lifelong readers. Centreville Layton students receive a dynamic and well-rounded literacy experience. Our writing program, Lucy Caulkins' Writers' Workshop, provides students with tools and strategies to become descriptive and proficient writers and communicators.
Centreville Layton School's child-centered reading and writing philosophy, our small class size, and the intervention of specialists inside and outside of the classroom work in tandem to create an environment where even the most reluctant readers and writers thrive.